I AM RRI investigates webs of innovation value chains in additive manufacturing (AM) and identifies openings for responsible research and innovation (RRI).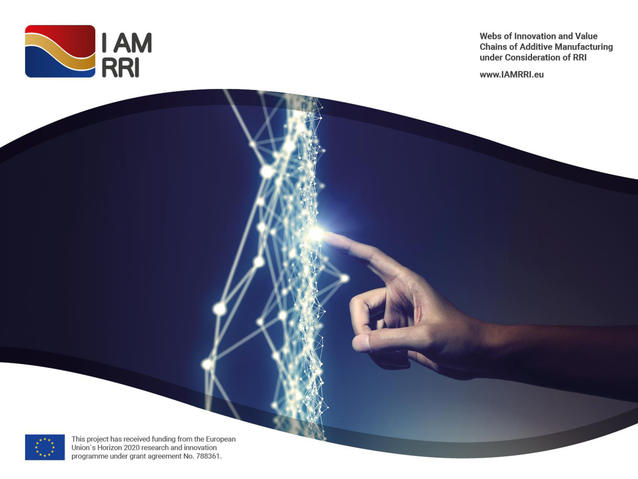 Additive Manufacturing (AM), popularly known as 3D printing, is a technology that promises to revolutionize manufacturing and innovation processes in a wide range of industries. The technology also raises new questions about responsible research and innovation. Nordland Research Institute is a partner in the trans-European project Web of Innovation and Value Chains of Additive Manufacturing Under Consideration of RRI ("I AM RRI" for short) funded by the EU's Horizon 2020 program, with a budget of EUR 3 million.
The consequences of additive manufacturing for business models and innovation value chains are poorly understood as the technology is still emerging. The ambition of the I AM RRI project, which started in the summer of 2018 and will run for three years, is to deepen our understanding of the additive manufacturing system and its crisscrossing value chains. The consortium carrying out the project comprises 16 private and public institutions from 12 different European countries. The core challenge of the I AM RRI project is to develop a computer-based simulation model of the complex web of innovation value chains in additive manufacturing, and Nordland Research Institute, whose contribution are from the research team of senior researchers Nhien Nguyen, Evgueni Vinogradov, and Åge Mariussen, has been assigned a key role in this task.
I AM RRI will employ use cases from the medical and automotive industries to test and refine the simulation model. An important priority of the project is to use the simulation model to identify implications responsible research and innovation for Additive Manufacturing in Europe
I AM RRI is run by a consortium of 16 partners from 12 countries. Besides Nordland Research Institute (Norway), the partners are Montanuniversität Leoben, Austria (coordinator); AIT Austrian Institute of Technology; Technische Universiteit Delft (the Netherlands); Eye-D Innovation (Denmark); Tampere University of Technology (Finland); Lithoz GmbH (Austria); DeskArtes Oy (Finland); Lancaster University (UK); Materalia (France); Tecnalia Research and Innovation (Spain); Grado Zero Espace (Italy); UAB Baltic Orthoservice (Lithuania); Interesansa (Lithuania); Centro Ricerche Fiat SCPA (Italy); voestalpine Additive Manufacturing Center (Germany).
Nordland Research Institute's participation in the project reflects the institute's strategic decision to seek participation in European projects under the EU's highly competitive Horizon 2020 program. The effort has been spearheaded by Nhien Nguyen, who is also the European-wide project coordinator of an upcoming H2020-funded project, SeeRRI, scheduled to begin in January 2019.